El Pasteurizador de frutos secos Maseto es uno de los componentes clave para la comercialización de producto con piel, cada día más demandado en el sector.
¿Qué es la pasteurización?
La pasteurización térmica tiene como objetivo la eliminación de patógenos en los alimentos para alargar su vida útil y a su vez cumplir con las normativas alimentarias cada vez más exigidas.
Pasteurizador Maseto
Los pasteurizadores Maseto se pueden incorporar a cualquier línea de proceso propia o de otro fabricante y gracias a su diseño independiente es fácil de instalar en cualquier línea de secado y/o tostado.
3 Equipos Validados Recientemente con Sistemas Innovadores en el Mercado
Nuestros pasteurizadores de frutos secos han sido testeados por la Autoridad Aprobada de Proceso siguiendo los protocolos de "Almond Board of California" para la validación TERP "5 log reduction certified".
THE ART OF NUT AND SEED PROCESSING

Maseto Technologies
Calidad y Seguridad
Mediante sondas de temperatura verificamos las condiciones descritas y por las cuales MASETO TECHNOLOGIES garantiza una correcta pasteurización con una reducción en la contaminación de 5 log.
Totalmente automatizado para un registro de datos en tiempo real. Los datos se pueden extraer fácilmente en diferentes formatos (lotes, partidas, variedades…) para un control exhaustivo y personalizado y para la certificación del producto.
Disponible en varias versiones según la automatización del proceso de mantenimiento y limpieza del equipo requerida por el cliente
Productos Procesados
Almendra, Anacardo, Avellana, Cacahuete, Coquito de Brasil, Chufa, Macadamia, Pistacho.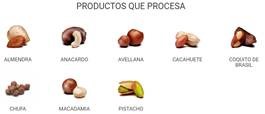 ---
English Version
Maseto nut pasteurizer
The Maseto nut pasteurizer is one of the key components for the commercialization of products with skin, increasingly demanded in the sector.
What is pasteurization?
Thermal pasteurization is aimed at eliminating pathogens in food to extend its shelf life and in turn comply with food regulations increasingly required.
Maseto Pasteurizer
Maseto pasteurizers can be incorporated into any proprietary or third-party process line and thanks to its independent design it is easy to install in any drying and/or roasting line.
3 Recently Validated Equipment with Innovative Systems on the Market
Our nut pasteurizers have been tested by the Approved Process Authority following the protocols of the Almond Board of California for TERP «5 log reduction certified» validation.
THE ART OF NUT AND SEED PROCESSING

Maseto Technologies
Quality and Safety
By means of temperature probes we verify the described conditions and by which MASETO TECHNOLOGIES guarantees a correct pasteurization with a 5 log reduction in contamination.
Fully automated for real time data recording. Data can be easily extracted in different formats (lots, batches, varieties…) for an exhaustive and customized control and product certification.
Available in several versions according to the automation of the maintenance and cleaning process of the equipment required by the customer.
Processed Products
Almond, Cashew nut, Hazelnut, Peanut, Brazil nut, Chufa, Macadamia, Pistachio nut.